The
Coved Box Designer
, Download
here
, can be used as a stand alone application to help with the layout of a manually cut coved box.
If you are fortunate enough to have a CMC, the designer can save the layout as a PLT file that may be read directly (or indirectly via CorelDraw), by your CMC software. I'll leave it to others to describe the steps necessary to cut a coved box on other brands of CMC, from the Cove.plt file that the designer creates, but here is a description of the steps required for the Trucut.
The application works best when run on the same computer where the Trucut software is installed. It also requires that the default Trucut file locations are used.
Specifically:
Main Directory - C:\Trucut
Mat File Directory - C:\Trucut\mat
User Design Directory - C:\Trucut\user
If the above criteria are met, the designer will detect the TruCut, and label the
Save
button as:
Save TruCut Design - Cove.mat
.
Step 1
Design your box, and click the
Save
button.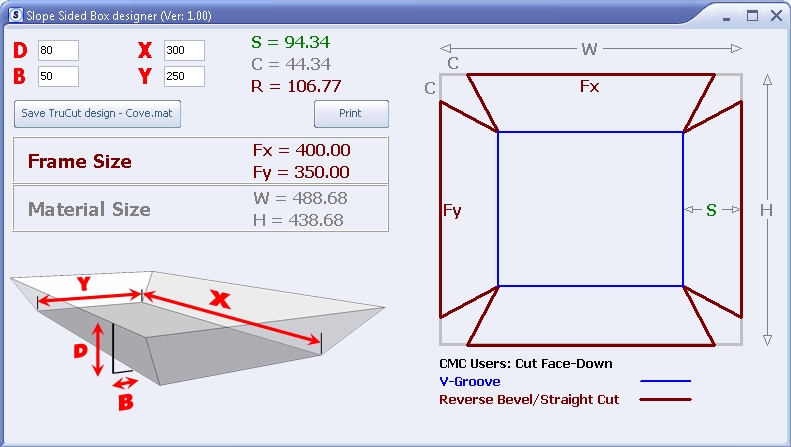 Step 2
File > Load > COVE.MAT
Step 3
Place the material face down on the cutting bed.
Click Cut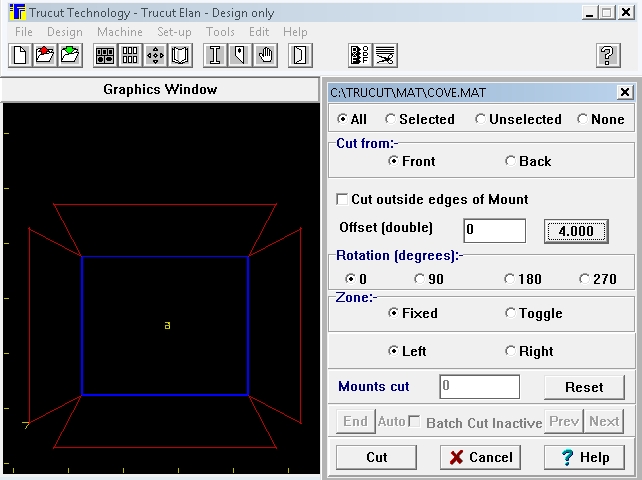 Now that these coved boxes are so easily made, we are using them more and more in situations where the framed object is not too heavy.
And of course there is the added bonus that our customers find them superior, much more elegant than the slab-sided appearance that stacked frames can sometimes have.